In a recent release, DTN has made several improvements to the ticker symbols for the WASDE report! The existing symbols have not changed and will continue to update as they have, however they have been enhanced:
Multiple fields (FIDs) have been populated to note the marketing year.

Date Range: Available in Quote displays (e.g., Quote Sheet)
Open Interest has the marketing year logged for historical views (e.g., Tabular)
The existing symbols(e.g. UW_C_EXPORT.US, UW_CT_IMPORT.EA_CH, PW_S_ENDSTK.SA_BR, etc.) behave like a "continuous" chart, rolling from year to year as WASDE adds the newest marketing year. With the marketing year now being logged in Open Interest, it will be much easier for users to identify the year associated with the historical value. This approach is great from the perspective of your displays being easy to maintain, since the symbols never expire. However, it does split the data/history from a single marketing year across 2 symbols. To address this, we've also created an additional symbol set to track a single marketing year in its entirety.
New symbols that are specific to a marketing year

Syntax
Prefix: MW_
Suffix: .Y1Y2
 Examples:

MW_S_BEGSTK.US.2223 = SOYBEANS BEGINNING STOCKS MILLION BUSHELS UNITED STATES 2022/23
MW_C_EXPORT.US.2021 = CORN EXPORTS MILLION BUSHELS UNITED STATES 2020/2021
MW_W_PRODCT.US.1617 = WHEAT PRODUCTION MILLION BUSHELS UNITED STATES 2016/2017

Note: "Expired" symbols will not display a description or appear in the symbol search. Keying directly into a historical display will be required.

MW_BF_TOTSUP.US.23 = BEEF TOTAL SUPPLY MILLION POUNDS UNITED STATES 2023

Note: Meats' marketing year aligns with the calendar year, therefore will only have a YY suffix.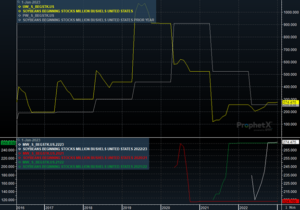 Lastly, while working through the above we added a significant amount of historical data to applicable symbols.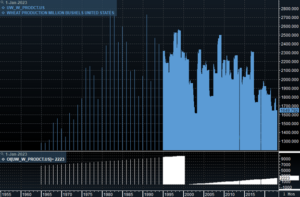 Category: Notices